Bowler to put issue 'to one side' before Lancashire return

Anderson was dropped after short call with Andrew Strauss
Jimmy Anderson is set to return to County Championship action with Lancashire after being left out by England.

 Photograph: Martin Rickett/PA
Jimmy Anderson is as yet battling to figure out his exclusion from the Test side and says he has had no correspondence from the England camp.
Britain's record wicket-taker was avoided with regards to the West Indies series keep going month, close by his drawn out opening accomplice Stuart Broad, after their 4-0 Ashes rout – with the interval head of cricket, Andrew Strauss, proposing it was a chance for the group to create.
Broad revealed in the aftermath of the decision that the pair, who have taken 1,177 Test wickets between them, had received only a five-minute phone call from Strauss to explain the decision.
Anderson, 39, is preparing to start the new season with Lancashire but says he is still unable to comprehend his England axe. "I've stopped trying to make sense of it and just put it to one side," he said.
"It was completely out of my control. I've got to focus on what I can control and that is bowling as well as I possibly can. Firstly that is here these next two months, try and take as many wickets as I possibly can and see what happens from there.
"Something like this, for me, is quite a big deal because it came out of the blue a little bit. I still feel like I'm bowling well. I was in the top 10 of the world rankings, so I feel like I'm doing a good job for the team. I feel like I've got a lot to offer, not just on the field but off it. I've really enjoyed working with the other bowlers that are coming through.
"After an Ashes defeat everything comes under scrutiny. There's lots going on, people losing their jobs and stuff.
"I would have loved a sit-down, face-to-face, but obviously that's not always possible in these situations. I would have loved more than a five-minute phone call, but again that's not always possible."
"It's difficult because there is no one in those positions yet, there is an interim director of cricket and interim head coach. With stuff up in the air like that, I would expect to hear something once those positions are filled." When asked if he has heard anything from the England set-up, Anderson replied: "No."
The England captain, Joe Root, suggested after their series defeat against West Indies that the squad had made "big improvements" in attitude. Anderson rejected suggestions he was difficult to captain and does not believe there was an issue during the Ashes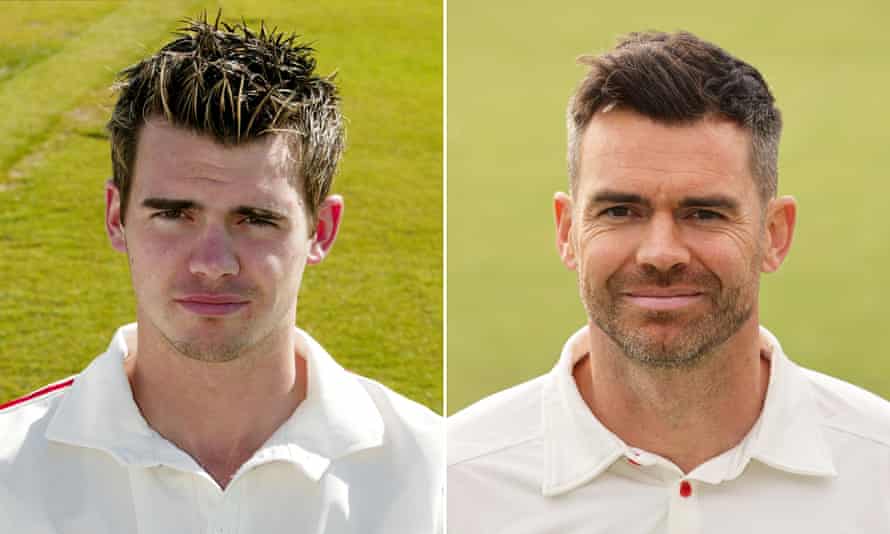 Then and now: Jimmy Anderson (left) before making his first-class debut in 2002, and (right) England's record wicket-taker at Lancashire on Monday. Composite: Michael Regan/Action Images; Clive Brunskill/Getty Images
When asked what he made of Root's comments, Anderson said: "I don't know. I didn't hear that. I'm not sure. If that's the case then … I don't know. We'll just have to wait and see what happens in the summer.
"I've done what I did for quite a long period of time, I feel like I know what I'm doing. I don't think I'm extremely stubborn. I will take advice and feedback from people. You'd have to ask Joe what he means by that."
Despite having 640 Test wickets under his belt, Anderson is in the strange position of having to make a point with his performances in the County Championship to win back his England place. The Lancashire seamer admits he feels he has a point to prove, adding: "I guess so. For me, if I think of how I build up to a Test series, I want to be in as good form as possible going into that series.
"For me the best way of doing that is performing for Lancashire, trying to win games of cricket. That's been my mindset forever really. Hopefully those performances will lead to a call-up and if not then at least we will get off to a good start to the season.
"If the England call doesn't come, I will still play here this season. I have never looked too far ahead in my career. It's always game by game, series by series, season by season."
… we have a small favour to ask. Millions are turning to the Guardian for open, independent, quality news every day, and readers in 180 countries around the world now support us financially.
We believe everyone deserves access to information that's grounded in science and truth, and analysis rooted in authority and integrity. That's why we made a different choice: to keep our reporting open for all readers, regardless of where they live or what they can afford to pay. This means more people can be better informed, united, and inspired to take meaningful action.
In these perilous times, a truth-seeking global news organization like the Guardian is essential. We have no shareholders or billionaire owner, meaning our journalism is free from commercial and political influence – this makes us different. When it's never been more important, our independence allows us to fearlessly investigate, challenge and expose those in power. Support the Guardian from as little as $1 – it only takes a minute. If you can, please consider supporting us with a regular amount each month. Thank you.